Post by Diane Skye on Nov 12, 2013 0:01:23 GMT -6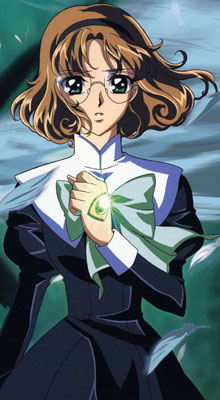 Name:
Diane Skye
Age:
14
Date of Birth:
Jan 23
Birthplace:
Ecruteak City, Johto
Gender:
Female
Sexual Orientation:
Hetero
Face Claim:
Fuu, Magical Knight Rayearth
Appearance:
See above
Height:
5'4"
Distinguishing Features
: When the sun comes out, sometimes she sports a vast array of freckles.
Personality:
A shy little wallflower, she is a caregiver through and though desiring to make everyone happy. This sometimes makes her a pushover to those who want to take advantage of her. It is very hard to make her angry, and when she does, she gets huffy and snippy in the nicest way possible. She is polite and never swears, though being around classmates outside of her house might break her of a few things such as her naive nature.
She will try to shove herself in people's business trying to make peace, this often times turns her into an annoying person without her intending to do harm, but her helpful nature sometimes goes to the levels of obsessiveness, particularly for her friends. Some might consider her a bit of a flower child, always wanting peace and happiness in the world.
Likes:
Butterflies, Hot Udon, Reading Books, Cooking
Dislikes:
Snakes, Peanut Butter (allergic), Heavy Metal, Most Sports
History:
Diane grew up a good girl in Ecruteak City, thriving on stories and legends from the towers and other interesting landmarks around the world. Having fallen in love with books, she became very smart at a young age and studied hard for her grades. She would help others at school with their homework, but her favorite past time was going to the National Park and enjoying the company of Pokemon. Noticing this trend in their daughter, her parents decided it best to have her go to school as a trainer.
She was adverse to the idea at first because it would send her away from her family and few friends, but her grades in grade school were very good and she was quickly accepted into Fallen Star Academy. Deciding it best to start with bugs because they were easy to raise, she is still unsure with what she wanted to do with her life. She had never battled with Pokemon in her life because she didn't believe in violence, but she realized she had to open herself to new experiences.
Hoping to find her calling in life, Diane entered the Academy in hopes of finding her niche.
Dorm:
Earth Dorm
Uniform Color:
Brown
Starter Pokemon
: (Male) Weedle and (Female) Combee
Played By:
Kagemusha